Your Account
Job Seekers, Welcome to AEA Career Center
Experienced Structural Engineer - Houston, TX
Wiss, Janney, Elstner Associates, Inc.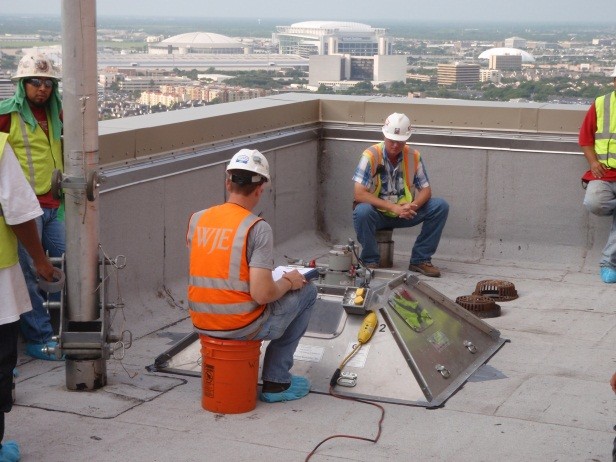 The Houston office of WJE is seeking Experienced Structural Engineers who will have full responsibility as a Project Manager including maintenance of client relationships, management of project teams, management of safety issues and responsibility for client deliverables, including technical content. Ideal consultant should be a well-rounded professional that develops their own client base, leads project teams, contributes to the company, is able to tackle complex assignments, and is an expert in one or more of the primary practice areas of WJE. The employee should be active in industry organizations, mentor junior staff, and participate in office and company development initiatives.
Candidates should have technical expertise in structural evaluation and analytical review applied to existing structures such as buildings, parking garages, transportation structures and/or industrial structures. Familiarity with reinforced concrete, steel, wood, masonry, and other structural systems is required.
Requirements:
Degreed in a related field with ten to fifteen years or more of relevant experience and expertise in one or more of WJE's primary practices

Strong regional experience and established clients in the Texas and southwest US markets

An interest in solving problems with new and existing structures

Licensed appropriately for area of expertise

Experience managing a range of projects from small to large

Active in professional organizations

Strong technical, written, and verbal communication skills

Strong computer skills including CAD and Microsoft Office

Ability to work in the field

Ability to travel outside local area, depending on local work load and project locations
Typical Functions:
Provides support as the primary client contact for projects

Develops the scope of services and prepares proposals

Assembles appropriate project team based on needs analysis and negotiates for available resources

Manages project team

Invoices client and follows up on outstanding accounts

Builds client relationships

Mentors junior staff

Attracts new and repeat business

Researches historical background of structure, technical issues, and code issues

Designs repair details

Prepares drawings, specifications, and final project deliverables

Prepares bid documents, addenda, change orders, draft investigation reports, and other work product.

Conducts on-site inspection/investigation including survey and documentation of distress, field testing, sampling, photographing, and sketching

Conducts on-site observations of work in progress

Analyzes research and investigation data and develops alternate schemes for solving problems

Monitors and/or conducts laboratory testing

Completes structural analysis of concrete, steel, wood, masonry and other structural systems

Attends field meetings and prepare site observation reports

Performs tasks to support office function

Participates in professional organizations, authors papers, attends conferences, and performs work on technical committees
Professional/Technical roles
The physical demands described here are representative of those that must be met by an employee to successfully perform the essential functions of this job. This position requires visual acuity and listening ability. Individuals must have the dexterity to be able to operate office and field equipment such as computer, printer, fax, copier, telephone, voice mail system, and other office and field equipment. Requirements may also include:
Ability to attend meetings at various office, field and construction sites

Ability to perform inspections of buildings and other structures, both visually and with instruments

Ability to lift and carry materials and equipment up to 50 lbs.

Ability to perform work in the temperature extremes presented by work in the outdoors

Ability to read construction drawings, diagrams, printed materials and computer screens

Ability to record data clearly and write passages for reports, letters, etc.

Ability to travel

Ability to safely work at heights

Ability to safely use and/or operate ladders, scaffolds, lifts and other access equipment

Ability to understand and appreciate safety training specific to numerous workplace and construction hazards

Ability to safely work in a variety of occupationally hazardous locations

Medically fit to utilize respiratory protection devices and other forms of Personal Protective Equipment

Ability to drive and safely operate a motor vehicle
WJE is an Equal Opportunity Employer. We invite all qualified applicants to apply including individuals with disabilities, minorities, women, and protected veterans (VEVRAA federal contractor).
WJE will consider qualified applicants with criminal histories in a manner consistent with the requirements of Fair Chance Ordinances.
All candidates must apply online to receive consideration.
NOTES:
2 openings.

Additional Salary Information: Ownership level, bonus eligible, 401k with 6% company match

Internal Number: STRUC01239
About Wiss, Janney, Elstner Associates, Inc.
WJE is a firm of structural engineers, architects, and materials scientists dedicated to providing practical, innovative, and technically sound solutions to problems in the build world. The foundation of WJE's success is our staff. We employ only extraordinary people - people with above average talent and outstanding character with a willingness to excel as members of the WJE team. In return, WJE offers an exciting, challenging, and rewarding opportunity to work on some of the most interesting projects in the industry, together with a competitive compensation and benefits package. When you join WJE, you'll be joining an organization with a proud past and exciting future. Founded in 1956 as a consulting and research organization, the firm has become the premier problem-solving firm in the construction industry. We have nineteen offices nationwide. With nationally recognized experts in the fields of structural engineering, architecture, and materials science, WJE has earned a reputation for leadership and excellence in the areas of failure investigation, remedial design, evaluation, architectural preservation, and materials science. WJE has over 650 employees in major metropolitan cities nationwide. Please vist the careers page on our website to view all of our opportunities.
BACK TO TOP
Powered By